Jerwood Visual Arts:
Jerwood Drawing Prize 2010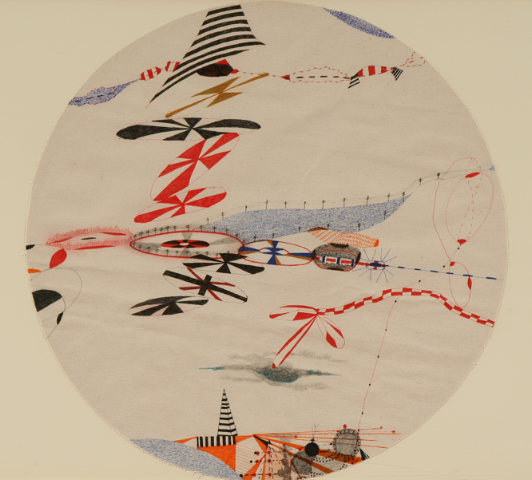 Bolus –Space (signal) 2009/10 by Virginia Verran. pens on canvas 76 x 62 cms
Jerwood Visual Arts is delighted to announce that Virginia Verran has been named First Prize Winner and awarded £6,000 for her drawing Bolus-Space (signal) in the Jerwood Drawing Prize 2010. Her work, along with that of the 70 short-listed artists will be shown at Jerwood Space, London SE1 from 29 September – 7 November 2010, and will then tour.
Born in Falmouth, Cornwall and now based in North London, Virginia studied at Chelsea College of Art, London (1983-84) and Winchester School of Art (1980-83). She has exhibited in a number of solo and group exhibitions in Great Britain and internationally. Selected solo shows include:Francis Graham-Dixon Gallery, London, Henie-Onstad Kunstcenter Olso, Norway, Newlyn Gallery, Cornwall. Selected group shows include : John Moores, Liverpool, Whitechapel Open, Whitechapel Gallery, London, Gallery HOT, Osaka, Japan, the Jerwood Drawing Prize 2009, Jerwood Space, London. She teaches at University College Falmouth, Chelsea College of Art and Design, London and Slade School of Art, London.
Virginia's description of her winning work is clear and concise:
'Intuitions · layers · planes · demarcations · nations · symbols · threats · bombardments · pointings · ponds · settlements · migrations · repetitions'
The Jerwood Drawing Prize is the country's leading award in drawing, and is the largest and longest running annual open exhibition dedicated to drawing in the UK. Established in 1996 as the annual Cheltenham Open Drawing Exhibition it was renamed the Jerwood Drawing Prize when the Jerwood Charitable Foundation became the principal supporter in 2001.
Just under 3,000 entries were submitted this year for consideration by the distinguished panel of selectors: Charles Darwent, Art Critic, Independent on Sunday; Jenni Lomax, Director of the Camden Arts Centre; and Emma Talbot, artist. The shortlist includes established artists as well as relative newcomers and students fresh from art school.
Contact: Isabel Cooper
01372 462 190
isabel@parkerharris.co.uk